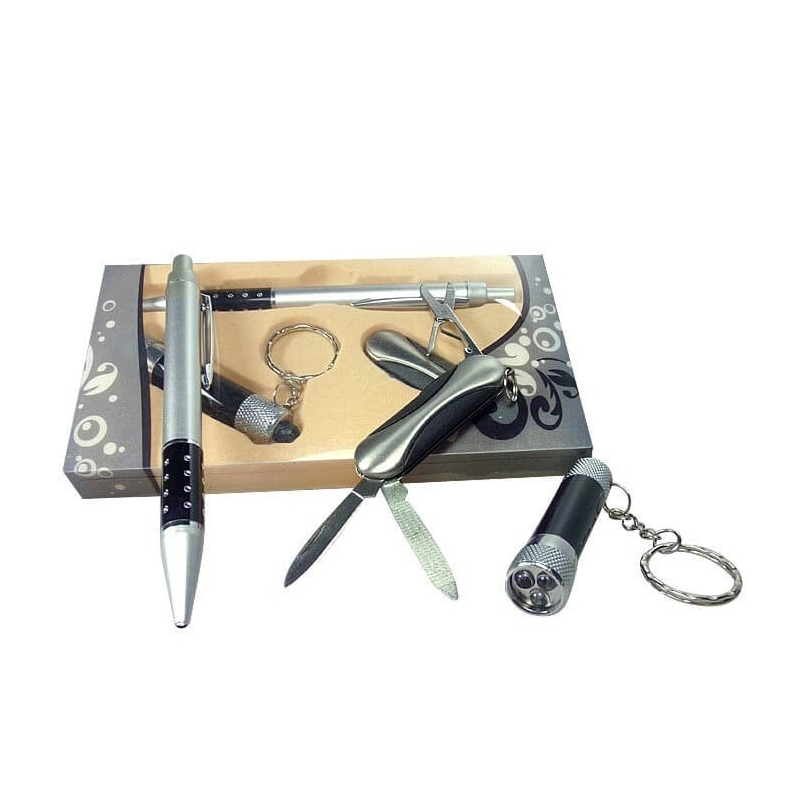  
Set for Guest Details Men
Gift set for men. Original detail designed to give to men on a special occasion or event. The gift set for men is presented in a transparent pvc box with an original design. It includes a pen in silver and black with small diamonds, a multipurpose knife and a key ring that is also a flashlight. The combination of this detail is silver and black.
The multipurpose knife includes lime, razor and scissors.
The flashlight includes batteries and the flashlight may arrive in different colors.
The box can reach you with the background in different shades: yellow, orange or ocher.
Box measures: 16x9x2 cm
Pen size: 14 cm
Knife size: 6x2 cm
Keychain flashlight measure: 7x2 cm (11x2.5 with the ring)
Compra online rápida en 1 minuto

Envío urgente GRATIS en España si compras más de 30€ y 4.75€ si compras menos

Garantía de satisfacción 100%, 14 días de devolución sin preguntas

Paga con PayPal, contra reembolso, tarjeta o transferencia

Entrega Urgente Gratis en 24 horas disponible

Llámanos al 910 052 062

Si eres de Canarias entra la tienda exclusiva de Detalles y Regalos en Tenerife Canarias

Si eres Empresa entra la tienda exclusiva de Venta al por mayor

Si eres de Cádiz visita las Tiendas de Cádiz
You might also like
Customers who bought this product also bought:
Set for Guest Details Men